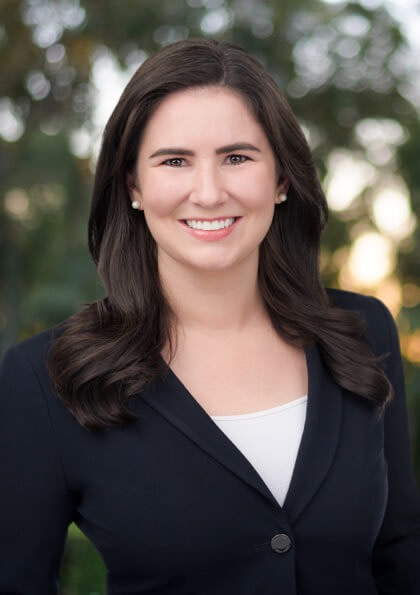 Get to Know…
Ally F. Keegan
Associate Attorney
Ally was born and raised in New York, before heading to Philadelphia and graduating from Villanova University. She eventually left the East Coast for San Diego, where she earned her law degree from the University of San Diego School of Law with a concentration in criminal litigation.
Ally got her first taste of criminal law at the Brooklyn District Attorney's Office in college, before pivoting to criminal defense in law school and never looking back. Having seen cases prepared and tried from both sides of the courtroom, Ally knows how to evaluate her cases from all angles and strategize relentlessly to ensure the best results for her clients.
Ally has practiced criminal defense on both the state and federal level. Having handled various types of cases in every stage of the defense process, she understands the care and attention that every person accused of a crime needs and deserves. Ally is proud to have the opportunity to defend people in their darkest hour, and does not take her responsibility as a defense attorney lightly. She knows that at the end of the day, the most gratifying part of her job is being able to help her clients navigate our complicated legal system.
Learn more about Ally, why she has dedicated her career to being a San Diego criminal lawyer, and (most of all) how she has been able to exceptionally serve her clients.
Professional Associations
The State Bar of California  Admitted  2016-Present
District Court for the Southern District of California, 2016
Lawyers Club of San Diego  Professional Advancement Committee; Women's and Reproductive Justice; Advocacy Committee  2013-Present
Women's Museum of California  Board Member  2020-Present
San Diego Criminal Defense Bar Association  Member  2020-Present
National Association for Public Defense  Member  2020-Present
National Women's Political Caucus  Member; Past President, Vice-President Public Relations Liaison  2017-Present
Article: "A New Focus on Incarcerated Women's Reproductive Rights." February 1, 2021. Lawyers Club of San Diego Newsletter. View
Article: "Roe v. Wade Celebrates Forty-Eight Years Despite Decades of Challenges." January 1, 2021. View
Lecture: "Bail Law: Before, During & After a Pandemic." September 21, 2020. LawPractice CLE. View
Article: "LGBTQ Advocacy and Legislation Amid the Covid-19 Crisis." July 1, 2020. Lawyers Club of San Diego Newsletter. View
Op-Ed: "Opinion: The Case for Keeping Criminal Cases Partially Remote After COVID-19." May 18, 2020. Times of San Diego. View
Lecture: "Bail Law: Procedure, Policy & Pitfalls." January 16, 2020. ProLawCLE. View
Juris Doctor. Criminal Litigation Concentration. University of San Diego School of Law (San Diego, California). 2016
Bachelor of Arts – Criminal Justice, Sociology & Spanish. Villanova University (Villanova, Pennsylvania). 2013